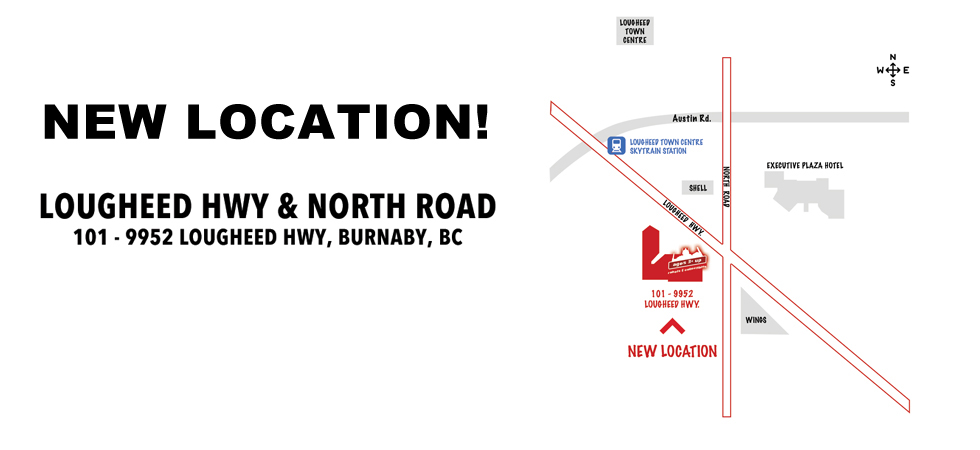 Urban Samurai Hobbies has MOVED to 101-9952 Lougheed Hwy!
To our amazing customers, fans, and friends who have all become family to us, we have some bittersweet news regarding our retail location. On September 1st, we were given notice to leave our retail location at Lougheed Town Centre, which means we will be moving our store to a new space on October 1st, 2016.
Our lease was ended early so the mall could place a similar business in our spot. Instead of spending our energy on why this happened to us, we put our focus on trying to minimize the impact to customers and staff, and proposed to be in a new location elsewhere in the mall.
The bad news is, after more than 2 weeks of waiting, Lougheed Town Centre's owners, Shape Properties, told us that they do not have a spot for us despite the abundance of vacant locations that are still available and publicly listed.
The good news is that we found an amazing space located just across the street on Lougheed Highway. This location is no further from the skytrain station as our old location in the mall.
What does all this mean for our customers?
*We will be holding a "They Don't Love Us Anymore" SALE in the coming days to lessen the load of inventory our team will have to move, which means you'll see sales and specials in store.
*Plus even more deals in the coming months at our new space that you won't want to miss!
*New and better location located south of the mall at 101-9952 Lougheed Highway with parking and Skytrain access.
*For existing orders that are marked as store pick up, you can pick up at our new location starting October 1.
Over the past 7 years, our location has been home to countless community events including regular gaming nights for customers to learn and play, painting classes, collector meet-ups and other cool hobbies. In fact, our store has become one of the few hobby and collector stores left in the Lower Mainland. We've created great relationships with other stores, staff and contractors at Lougheed Town Centre, so to see the mall trade that for their own financial agenda is disappointing.
Although we understand the mall has business considerations just as any business does, the especially underhanded timing and resolve they gave makes it feel that the existing community around our store and area is not valued.
Given all of this, it is clear to us that the local staff from our area who have worked so hard to create a welcoming environment, and have come to rely on our small store for their livelihood, just aren't even a consideration in the new direction the mall is headed.
Although this situation has been hard on our team, we are committed to making this experience positive and seamless moving forward. We are super excited for our new location and we will continue to support and build our local community at our new home with as much energy and effort as ever. We will continue to bring you the same great events, classes, and products with the same great service you've come to expect.
Most importantly, we can't thank our fans, local customers and staff enough for the support you've given us over the years, so please stop by and say hi.
Even better, show your support to our team by letting us know what you think. Despite the circumstances, we really did love the mall. With the move happening so swiftly, our team has not even had a chance to grieve the loss of the store. So please SHARE our post on Facebook and tell us what you think, whether it's just a show of support or a different perspective, it will be like therapy for our amazing staff.
FAQ
Q: Where is the new location?
A: It is located at 101-9952 Loughed Hwy in Burnaby, about a 2 minute drive from the mall.

Q: When will your new location be open?
A: We aim to be open October 1. We are open for business!

Q: What are your hours of operation?
A: Our hours of operation will remain the same for now. There may be some adjustments so stay tuned! We now have new hours of operation starting Tuesday October 11, 2016. Our new hours will be Monday - Tuesday 12pm to 7pm, Wednesday - Saturday 10am to 9pm, Sunday & Holidays 12pm to 7pm.

Q: Is there free parking at the new location?
A: Yes, there is plenty of free parking in the complex.

Q: Will you still host game nights, x-wing tournaments, Friday Night Magic, and paint classes?
A: Yes, we will still have the same great events at our new location.

Q: Will you have a grand re-opening sale?
A: Yes, definitely! Please stay tuned on our website, Facebook page, and e-newsletter.

Q: Will you still have store pick-up for online orders?
A: Yes, you will still have the convenience of picking up online orders at our new location